It's so much more than just copy paper
Aligns with climate action initiatives
Preserves forests and animal habitat
Supports reforestation

It's so much more than just copy paper
Aligns with climate action initiatives
Preserves forests and animal habitat
Supports reforestation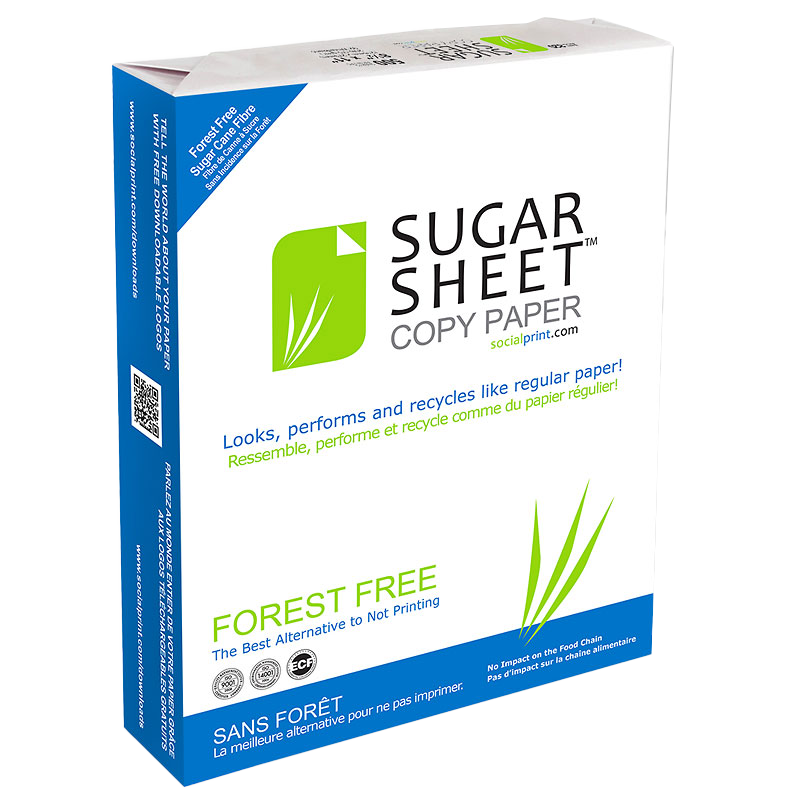 Introducing Sugar Sheet
8 ½ x 11 / 92 Bright / 20 lb copy paper
Made from recycled sugar cane fibre
It looks, performs, recycles, and costs the same as recycled paper
Clean, dust free, and rigorously tested by all major OEMs
Runs flawlessly as certified by BLI's 99.99% Jam Free Certification
ECF (Elemental Chlorine Free)
Carbon-Neutral certified
Supports reforestation
Mill Certifications ISO 9001, ISO 14001, ISO 45001
Get a free sample
Sugar sheet vs. Regular paper
See how 10 boxes of
Sugar Sheet

compare to other paper.
Trees Required
CO2 Emissions
Cost for Carbon Offsets
Carbon Neutral
Recyclable Ream Wrapper

0 trees
0 kg

294 kg before offset

$0

6 trees
2,360 kg

That's over 2 tonnes!

$50.90

4 trees

1,687 kg

$42.20

0 trees

861 kg

$21.50

?
Our ream wrappers are recyclable!
Did you know that most ream wrappers on copy paper are not recyclable because they contain a plastic moisture barrier? Sugar Sheet's ream wrapper is recyclable. When finished with the Sugar Sheet wrapper, it can be discarded in the blue bin with your other recyclable paper. Our recyclable ream wrapper helps eliminate millions of wrappers from needlessly ending up in local landfills—another reason why Sugar Sheet copy paper is the most sustainable copy paper available today!
+ Request sugar sheet today
The same price as recycled paper
What's the point in making an eco-friendly paper that isn't affordable? From the start, Sugar Sheet copy paper was designed to change how businesses, governments and individuals think about copy paper. We knew we had to provide Sugar Sheet copy paper at a competitive price AND make it easy for customers to make the switch.

Today, Sugar Sheet copy paper is sold at a price competitive with 30% recycled paper by all major Canadian paper suppliers, and it's available to retail customers at London Drugs stores across Western Canada.
We plant trees. We don't cut them down.
Get started with your current paper supplier
We collaborate directly with all paper category managers at all paper suppliers so you can easily make the switch with your current paper supplier. Click the button below and let us help you get started!